Beyond the Choir: The Future of Engaging Men
The PowerPoint presentation draws upon findings of Dr. Erin Casey's "Engaging Men" study to explore current engagement methods and the populations of men that are joining the anti-violent movement based on those efforts. The PowerPoint addresses more effective means of developing a larger base of engagement and creates a step-by-step model around which to build more effective programs and outreach efforts.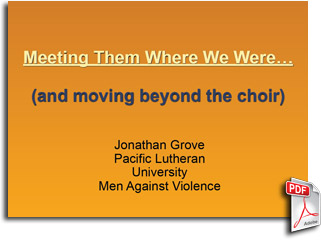 The attached figure depicts a framework for engaging men in the anti-violent movement.